FAIRTIQ LUFTLINIE - calculates simply in a straight line.
Another measure of the STADTLand+ model project was launched - the introduction of an eTariff.
You may already be familiar with the FAIRTIQ app - our free BestPrice app for Halle's fare zone 210. HAVAG started with a new sister app of FAIRTIQ, the FAIRTIQ LUFTLINIE for a first test phase.
FAIRTIQ LUFTLINIE (found in the stores under "FTQ Lab") only calculates the kilometres as the crow flies between the stops in Halle. The basic fee for the FAIRTIQ LUFTLINIE is € 1.50. Each kilometre started will then only be charged at 15 cents.
Our sample calculation

Zoo stop to Marktplatz stop

Distance as the crow flies: 3 km
Basic charge as the crow flies: € 1.50
Calculation path: 3 km x € 0.15
Price result as the crow flies: € 1.95

Compared to a single ticket price: € 2.80
Amount saved on this journey: € 0.85

DayBestPrice cap for several journeys per day: € 6.90 (1 person and within 24-hour ticket)
But simply calculate your personal as the crow flies tariff (LUFTLINIEN tariff) yourself using the following tariff calculator!
APP advantages in summary
charges only for kilometres as the crow flies (basic fee for FAIRTIQ LUFTLINIE costs 1.50 euros and 15 cents per kilometre started); Note: Use our conventional FAIRTIQ fare when travelling a distance of 8 km or more.

facilitates travel with almost no knowledge of public transport fares in Halle (fare zone 210)

permits travel by tram, bus, S-Bahn and local trains in fare zone 210

Paper and cashless payment with your smartphone and by credit card (Mastercard and VISA), PayPal or SEPA direct debit
Using the DayBestPrice cap - you never pay more than the price for a 24-hour ticket for 1 person of € 6.90 for all journeys within 24 hours from the first journey
---
---
Download the free APP "FTQ Lab" (for Android and iOS) from the App Store or Google Play Store onto your smartphone.
Enter the activation code you received by email and enter any additional details: Your personal data and the preferred method of payment - using PayPal, credit card (Visa or MasterCard) or direct debit. Finished!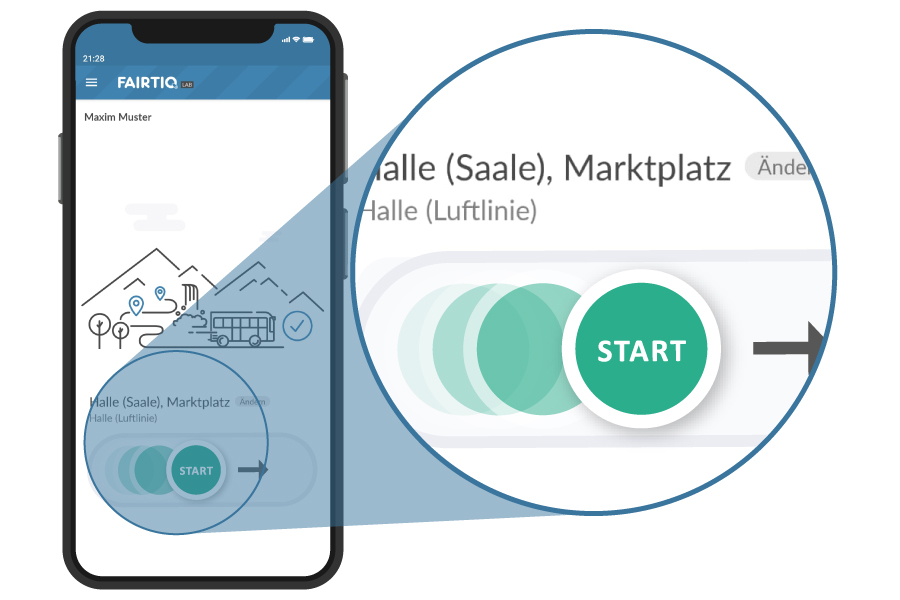 Before boarding, simply confirm the displayed starting stop by swiping the start control from left to right. Now you are checked in.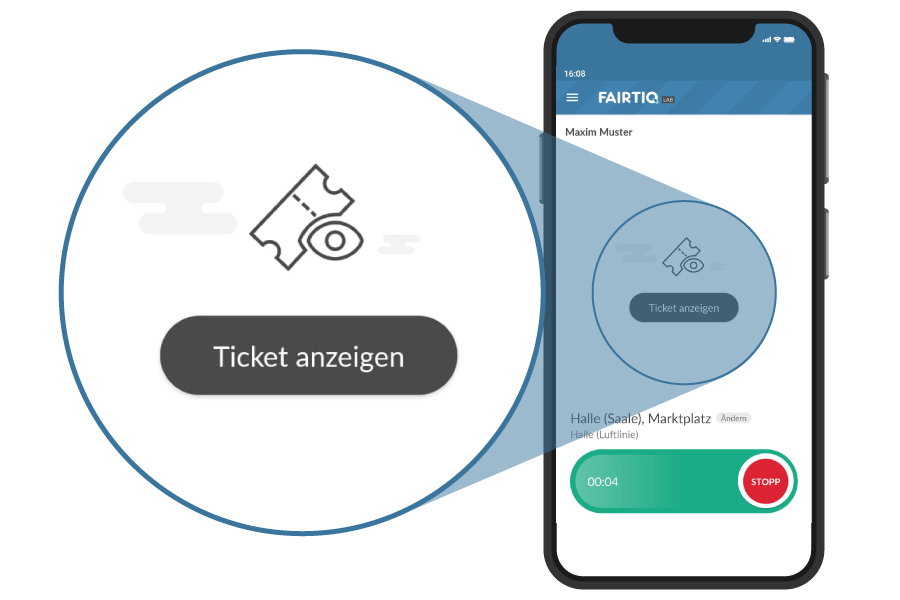 Get on board and lean back. In the event of a ticket inspection, simply show the ticket via "Show ticket" (QR code is generated).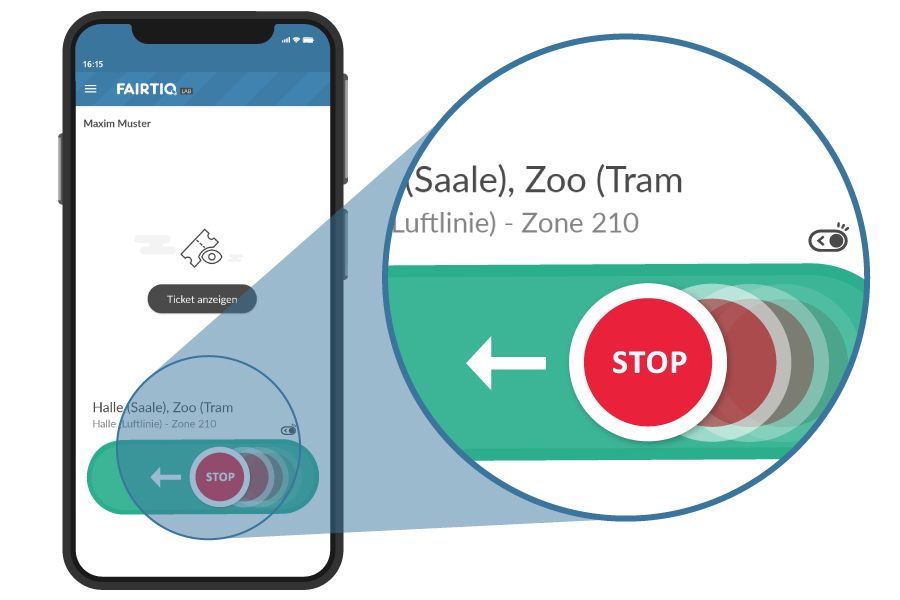 When changing trains/buses, simply stay checked in and only check out again at your destination at the exit stop by swiping or Smart Stop (to do this, slide the stop control from right to left).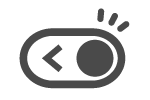 If Smart Stop is activated and you forget to check out by swiping, the app automatically recognises that you have finished your journey.
Additional information