Get on with easy.GO
easy.Go becomes MOOVME

Easy.Go will shut down its services for the area of the Mitteldeutscher Verkehrsverbund (Central German Transport Association) in the end of 2020. Therefore it is time to make a switch to MOOVME. The new ticketing app for Android and Apple.
Searching for connections, checking departure times, and buying tickets of course, without using cash. Simply load them onto your smartphone.

For more information visit our website www.havag.com/en/tickets/online-tickets/moovme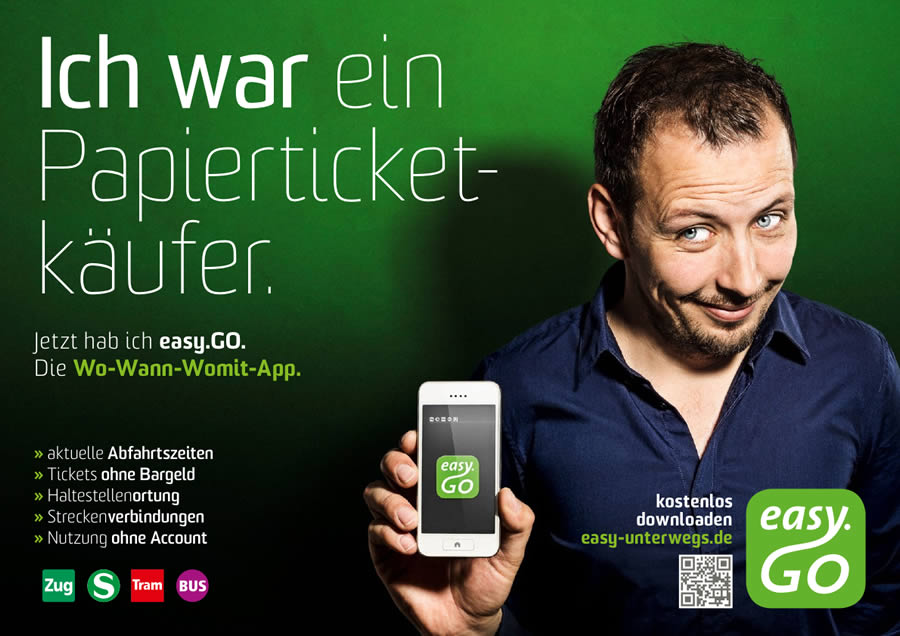 With easy.GO, the free where-when-what app, you can ditch the car, stop being late, and never have to search for a ticket machine again.
easy.GO:
Is free
Is available for all operating systems
Knows the departure times of all buses, trams, and trains
Shows all routes between your starting point and destination
Locates all stops near your current location
Includes support for the visually impaired
Can be used without logging in
Helps you buy your ticket easily and without cash, ticket machines, or ticket shops; ticket prices are charged to your phone bill without additional costs
Get on. Get along. Get around.
Whether you are commuter or casual rider, every passenger profits from the functions easy.GO offers. Using GPS, the mobile travel companion shows the locations of nearby stops on a map, and, if desired, the best routes to your destination address. Furthermore, easy.GO recommends the most cost-effective fare for your selected route and offers direct and cashless purchase.
The fares for tickets purchased through easy.GO are charged to your phone bill or the prepay service of your mobile network carrier. Additional functions such as address-specific route search (simply specify an address or bus/tram stop), a departure monitor with reminders, purchasing transfer tickets for travel card holders, and direct selection of fares are also available.
You can find more information about easy.GO and about downloading the app on myeasygo.de
For questions about easy.GO you can reach the easy.GO hotline at 01803-327946* (01803-easygo*) or via email easygo@mdv.de Monday to Sunday from 7.00am to 9.00pm.
(* 0,09 € per minute incl. VAT on German landline, mobile rate no more than 0,42 € per minute)