Privacy Policy
Information requirement according to Article 13 and Article 1 - GDPR
Duties to provide information pursuant to Article 13 and Article 14 of the General Data Protection Regulation (EU) (GDPR )
This information sheet is intended to inform you about the processing of your personal data by Hallesche Verkehrs-AG in accordance with the EU's General Data Protection Regulation (GDPR).
1. Name and contact data of the controller and the data protection officer

Hallesche Verkehrs-AG

Freiimfelder Straße 74,
06112 Halle (Saale)

Telephone: +49(0)345 5 81 - 0
Email: post@havag.com

Hallesche Verkehrs-AG (HAVAG) is part of the Stadtwerke Halle Group.You can contact our data protection officer by post at the above address, adding "Datenschutzbeauftragter" (Data Protection Officer) or by email at: datenschutz@swh.de.
2. Purpose and legal basis of the data processing

Data processing for the purpose of initiating and performing contracts
We have to process personal data is necessary in order to initiate and perform contacts and also for billing purposes in relation to your contract.

Data processing on the basis of your consent
If you have given your agreement for your personal data to be processed for certain purposes (e.g. so that we can contact you by email or telephone for promotional reasons and in order to pass on data within the Group), processing will be lawful on this basis. Any consent that you have given can be revoked at any time with effect for the future.

Data processing on the basis of legitimate interests
We process your data on a lawful basis in order to protect our legitimate interests. This includes the use of your personal data

so that we can offer you product information for purposes of direct advertising and in order to improve and develop services and products so that we can address your individual needs as a customer,
and so that we can carry out market and opinion research or have such research carried out by market and opinion research institutes,
in order to consult and exchange data with credit agencies (such as Schufa and Creditreform) to identify credit risks and the risk of non-payment, especially if the conditions set out in section 31 of the Federal Data Protection Act have been fulfilled,
in order to enforce legal claims and for purposes of defence in the case of legal disputes or in order to investigate or prevent criminal offences,
in order to avoid interruptions to operational processes and to avoid loss of image,
in order to determine addresses (such as in the case of removals),
to guarantee IT security and IT operations as well as to ensure the security of the building and its facilities (e.g. video surveillance to safeguard the rules of the house),
for promotional purposes after your contact has ended,
for internal administration purposes within the Group (e.g. a central customer database for address management and accounting, central authorisation management).

Legitimate interests of third parties may particularly be

to guarantee IT security and IT operations,
the provision of a customer-oriented and modern public service
and to prevent and investigate fraud and criminal offences.

Data processing due to legal requirements/public interests
We are subject to various legal obligations (e.g. tax laws, the German commercial code), which make it necessary to process your data in order to comply with the law. According to Article 6 (1) (c) of the General Data Protection Regulation, the legal basis are the legal obligations which we have to fulfil.
3. Categories of recipients

In our company the departments that have access to your data are those that need this data for compliance with the above-mentioned purposes. This also applies to the service providers and agents that we engage. We only send personal data to third parties if this is necessary for the reasons given above or if you have previously given your consent.
Certain departments of other companies in the Group also carry out central activities for the affiliated companies.
Recipients of personal data may be such departments from the areas of IT services, the billing service, application support, financial accounting, customer care, call centres, insurance companies, banks and credit institutions (payment processing), opinion research institutes or credit agencies.
When cooperating with service providers who do not work for us within the framework of contract data processing, this happens only so that a contract can be performed efficiently and so that we can comply with our contractual obligations (e.g. selected specialist companies and trades).
No data is sent to countries or agencies outside the EU.
4. Duration of the data storage and erasure of personal data

We store your personal data for the purposes mentioned above. Your data will first be processed from the time that it is collected if you provide us with this data yourself or it is provided by a third party. We will erase your personal data when the contractual relationship with you has ended, when all mutual claims have been satisfied and there are no other legal retention obligations or legal justifications for the storage of the data. These include the data retention obligations under the German Commercial Code (Handelsgesetzbuch, HGB) and the German Tax Code (Abgabenordnung, AO). This means that we will delete your personal data at the latest when the legal retention periods have expired (usually 10 years after the contract with you has ended).
We will store your data for a maximum period of 2 years after your contract has ended for purposes of post-contractual direct advertising. In the case of promotional measures to which you have given your consent, we will delete your data once this consent is revoked. Legal retention periods or other legal requirements have precedence over your right to have the date erased.
5. Rights of the data subject

In the event of questions or complaints on the subject of data protection please do not hesitate to contact our company. You have the right to be given information (Article 15 of the GDPR) as well as the right to rectification (Article 16 of the GDPR), the right to the erasure of the data (Article 17 of the GDPR) or restriction of processing (Article 18 of the GDPR) and also the right to object to the processing of your personal data (Article 21 of the GDPR). Furthermore, you have the right to the portability of data that you have made available (Article 20 of the GDPR). In addition, you also have the right to lodge a complaint with a responsible supervisory authority (Article 13 (2) (a) of the GDPR).

Right of objection

Where we process data in order to protect our legitimate interests (see 2. Data processing due to legitimate interests), you have the right to object to this processing at any time on grounds of your special situation. This also includes the right to object to processing for promotional purposes.
6. Providing your data, consequences of failure to provide data

In the context of our business relationship you have to provide the personal data that we need in order to commence and conduct the business relationship and to comply with the associated contractual obligations, or to provide the personal data that we are legally obliged to collect. Without this data we cannot enter into or continue the contract and may not be able to properly handle your enquiry.
7. Data sources

We will process the personal data that you have given us in the context of our business relationship. We will also process personal data that we may lawfully obtain from publicly accessible sources such as from registers of debtors, land registers, trade and association registers. In addition, we will use personal data that we have lawfully obtained from companies within our Group or from third parties.
8. Modification clause

As our data processing is subject to modifications, we will also adjust our information on data protection from time to time. We will publish any alterations in good time.
Data protection
Below you will find information about the collection of personal data when you use this website. Personal data is understood as all data that relates to you personally, such as your name, address or email address.
Data protection

The protection of personal data is important to us. We will treat your personal data as confidential and in accordance with the legal requirements regarding data protection as well as the provisions of this data protection statement.

It is normally possible to use this website without entering personal data. In cases where we collect personal data on our website (such as your name, address or email address), this will always be done on a voluntary basis as far as this is possible.

The service provider within the meaning of section 13 of the German Telemedia Act (TMG) and the controller within the meaning of section 3 (7) of the Federal Data Protection Act (BDSG) is Hallesche Verkehrs-AG (see Impressum/legal notice).

Furthermore, we would like to point out that data transfer over the internet (for instance when communicating by email) may be subject to vulnerabilities. It is not possible to fully protect the data against access by third parties.
Transmission to third parties

We will not pass on data to third parties unless we have your express agreement or are obliged to do so by law. To operate this website our company uses the services of IT-Consult Halle GmbH, which is also a subsidiary of Stadtwerke Halle GmbH.

If your data is transmitted within the Stadtwerke Halle-Group we will explicitly draw your attention to this.
Information, erasure and blocking

You have the right to request information free of charge at any time regarding the personal data we have stored about you, its origin, to whom it is disclosed and the purpose of the data processing; you also have the right to the rectification, blocking or erasure of this data unless this is not possible for legal or contractual reasons. If you have given your consent to the use of your data, you may revoke this consent at any time.

If you have any questions about this or any other questions on the subject of personal data, you may contact us at any time at the address shown in the Impressum (legal notice).
Cookies

On our website we sometimes use what are known as cookies. Cookies will not damage your computer and contain no viruses. Cookies serve to make our services more user-friendly, more effective and more secure. Cookies are small text files that are deposited on your computer and stored in your browser.

Most of the cookies we use are what are known as "session cookies". They are automatically deleted at the end of your visit. Other cookies remain stored on your end device until you delete them. These cookies allow us to recognise your browser on your next visit.

You can set your browser in such a way that you are informed when cookies are deposited and so that cookies are only allowed in the individual case or so that you accepted cookies only in certain cases or exclude them in general; you can also activate the automatic deletion of cookies when you close your browser. The functions of this website may be restricted if cookies are deactivated.
Server log files

We collect and store information in server log files which your browser sends us automatically. The use of this data serves to provide and improve the contents and functions of our website. These are:

the IP address, the date and time of the enquiry, the time zone difference to Greenwich Mean Time (GMT), the content of the request (concrete page), the access status/HTTP-status code, in each case the data volume transmitted, the website from which the request originates, the browser, the operating system as well as the language and version of the browser software.

If our website is used solely for information purposes, i.e. if you neither need to log in nor register, or send us any other information, we will not collect any (further) personal data. In cases where we collect personal data on our website this will always be done on a voluntary basis as far as this is possible.

The data will not be mixed with data from other data sources. We reserve the right to subsequently examine this data if we have specific indications of unlawful use.
Data security

We guarantee data security through security standards in line with the current state of the art.

To protect your data. your connection to website pages where data can be entered is safely encrypted. You can see that this is the case by, for example, a small lock with https:// in the address line of your browser.
ABO-Online

If you would like to order a subscription in ABO-Online, you will have to create a customer account for this purpose. Your data will be collected, processed and used for the purpose of performing the contract. The mandatory data needed to perform the contract is specially marked; any further information is voluntary. If you create an account, the data you enter will be stored subject to revocation. You can always delete the account in the customer area.
Contact form

If you send us enquiries on the contact form, the information you provide on the enquiry form, including the contact data you enter, will be stored in order to process the enquiry and to handle any enquiries that you make at a later date. We will not pass on this data without your consent.
HAVAG guarantees

Your personal data will only be used to process your application, in compliance with the data protection laws. In order to clarify any subsequent enquiries or to provide information about applications in the context of the HAVAG guarantees, we need to take or telephone number in addition to the mandatory information. There will be no disclosure of your details unless we are legally obliged or entitled to make such a disclosure.
Objections to promotional emails

The use of contact data published within the framework of the legal obligation to provide the name and address of the operator of the website in an "Impressum" (legal notice) in order to send promotional and information material that has not been expressly requested is hereby repudiated. The operators of the website expressly reserve the right to take legal action in the event of the unsolicited dispatch of promotional information, such as through spam emails.
Analytical services

This website uses the Matomo open source web analysis service (formerly Piwik). Matomo uses what are known as cookies, which make it possible to make an anonymous analysis of the use of the website. Here the information generated by the cookie concerning the use of this website is stored on the server of the web hoster. The IP address is anonymised prior to being stored.

The information generated by the cookie concerning the use of this website is not passed on to third parties. You can prevent cookies being stored by making an appropriate setting in your browser. However, you should be aware that in this case you may not be able to make full use of all functions of this website.

If you do not agree to your data being stored and used, you can deactivate the storage and use of your data here. In this case an opt-out cookie will be deposited in your browser which will prevent Piwik from storing usage data. If you delete your cookies, this will cause the Matomo opt-out cookie to be deleted as well. The opt-out must be reactivated the next time you visit our website.

Source: www.datenschutzbeauftragter-info.de

---

Google Analytics

This website uses Google Analytics, a web analytics service provided by Google, Inc. ("Google"). 
Google Analytics uses "cookies", which are text files placed on your computer, to help the website analyze how users use the site. The information generated by the cookie about your use of the website (including your IP address) will be transmitted to and stored by Google on servers in the United States. 
In case of activation of the IP anonymization, Google will truncate/anonymize the last octet of the IP address for Member States of the European Union as well as for other parties to the Agreement on the European Economic Area. 
Only in exceptional cases, the full IP address is sent to and shortened by Google servers in the USA. 
On behalf of the website provider Google will use this information for the purpose of evaluating your use of the website, compiling reports on website activity for website operators and providing other services relating to website activity and internet usage to the website provider. 
Google will not associate your IP address with any other data held by Google. 
You may refuse the use of cookies by selecting the appropriate settings on your browser. However, please note that if you do this, you may not be able to use the full functionality of this website. 
Furthermore you can prevent Google's collection and use of data (cookies and IP address) by downloading and installing the browser plug-in available under:
https://tools.google.com/dlpage/gaoptout?hl=en-GB.
Newsletter data

If you wish to subscribe to the newsletter offered on this website, you only need to provide us with an email address. We will only use this address to send you the information requested and will not disclose it to third parties. The provision of further information is voluntary and this information will only be used to personalise the newsletter. Voluntary information will be identified as such. The data will be processed by IT-Consult Halle GmbH, also a subsidiary of Stadtwerke Halle GmbH. The newsletter is sent out by Stadtwerke Halle GmbH on HAVAG'S behalf.

We use the "Double Opt-In" procedure for subscriptions to our newsletter. This means that after you have provided us with your email address we will send a confirmation email to this email address asking you to confirm that you wish to be sent the newsletter. Your registration will be automatically cancelled if you do not confirm this within 24 hours. If you confirm your wish to receive the newsletter, we will store your email address until you cancel your subscription. The storage of your email address serves the sole purpose of sending you the newsletter. Furthermore, when you register for the newsletter and confirm your registration, we will store your IP addresses and the relevant times in order to prevent the misuse of your personal data.

You may revoke your consent to the storage of your email address and any further voluntary information provided and also your subscription to the newsletter at any time. You can do this by clicking on the link provided in every newsletter email.
Online surveys

Participation in our surveys is voluntary and is generally anonymous. If you take part in one of our surveys we will not collect any personal data from you. Your IP address will also be anonymised by the system. Please note that if you make any entries in free text fields you should not provide any information relating to an identifiable person.

You can discover the objectives being pursued in our survey from the information about the survey in question. If the survey is one that requires the collection of personal data, this will be explicitly pointed out to you before you take part in it.
Updates to this data protection information

We will adapt our data protection statement to take account of changes in the website's functions or in the legal requirements. We therefore recommend that you consult this statement at regular intervals.
Privacy notices for the HAVAG subscription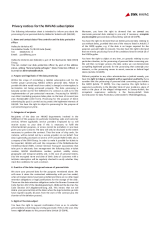 Privacy notices for the HAVAG subscription to inform you about the processing of your personal data by Hallesche Verkehrs-AG (HAVAG), date: November 2020
Privacy notices for the AzubiTicket Saxony Anhalt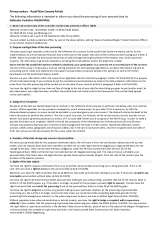 Privacy notices "AzubiTicket Saxony Anhalt" about the processing of your personal data by Hallesche Verkehrs-AG (HAVAG).